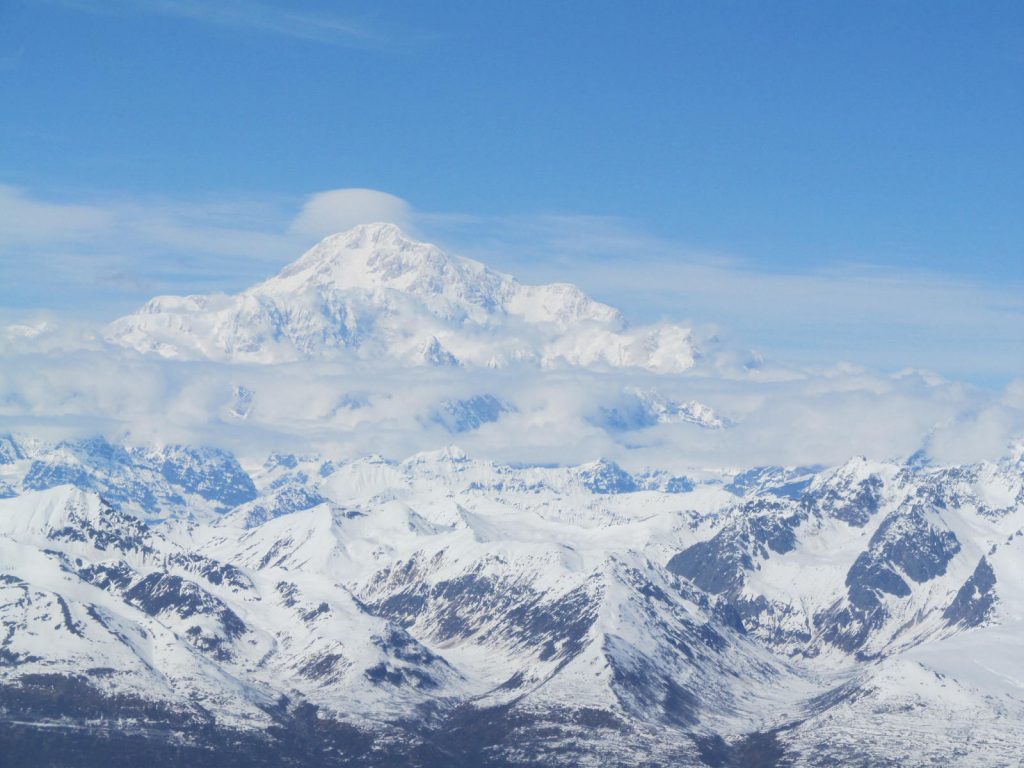 July 2018 – Moun Denali Expedition
Denali is the highest mountain peak in North America, with a summit elevation of 20,310 feet above sea level. With a topographic prominence of 20,156 feet and a topographic isolation of 4,629 miles, Denali is the third most prominent and third most isolated peak on Earth, after Mount Everest and Aconcagua.
With 2 other team member from India – Debabrata Mukherjee Mountaineer Guide (Debu Deba) and Chinmoy Bhattacharjee, we set out for one of the toughest climbs in America. All went as per plan, we took the skip plane and landed at the glacier at 7000 ft, and started our journey towards the top.
Day1 & Day2 – we dragged our heavy load – on 50 pound backpack and 70 pound sledge to reach camp 1. Day 3 – Got rested eat well, and then moved to camp 2. The weather started going bad.
Day 4 & 5 – Were stuck inside our camps, with heavy wind, low visibility, and snow storm.
Day 6 – The weather cleared up and we were able to reach camp-3. Its a snow world out there, what ever, where ever you see it just snow and peaks.
Day 7 – Went half way to camp 4 and stocked half our stocks. Carry heavy load and going up the steep slopes on the snow, is like doing a Ironman everyday. There are no sherpas to help here, you have to do it on your own. its super though, you got to be strong and fit.
Day 8 – We took all the remaining stuff, went to camp 4, on the way we retrieved all the stacked away stuff. It was one of the longest days of work.
Day 9 &10 – were cold and windy and bad weather, we were stuck at camp 4.
Day 11 – we again went halfway to camp-5 and stocked half of our items. It was a technical climb, and as whether was good, in the night, we did in the night, not taking into fact that it could go so coal in the night. it was -40, and cold did took its tool. Not a good idea.
Day 12 we rested as the cold climb took its tool on us.
Day 13 we started our climb to camp-5 and it was no that easy. We started late, there were big lines, thing were really moving slow. Reached way late in the night, and weather was not as good, it was cold. on top of that our stoves malfunctioned. It was 2 in night we could make some hot water and food. Not a good day at all.
Day 14 – the weather was excellent to summit push, but the debacle the bight before, was no good for us. We did muster all our energy and started towards the summit push, it was hot crazy hot, and team mates were exhausted. Decided not to take risk.
Day 15 – we got ready for the climb, again we were late, but we could make our own route and cross many waiting on the line. by the time we reached 19,800 ft the weather gave up on us. It has a full blow snow storm, low -45 temp, high wind, and low visibility. Again a team decision was made to not risk life into it. We call off the summit push. Denali will always be there, life is more important, will come back gain.